Monday
Yoga with Barbara Dillon (Adult) - currently on a break, returning on Monday 5th of September.
7 - 8 pm
Barbara is Hatha Yoga trained, but after over 30 years teaching she has developed her own style with influences from Lyengar, Flow, Kundalini and Yin Yoga. She places emphasis on Pranayama and Meditation. The classes are mixed ability, age and gender and an hour and a half duration.
Contact Barbara Dillon on 01381 622296
Tuesday
Shibashi Qigong
6.30 - 8 pm
Qigong is a form of moving meditation practiced with slow, relaxed and flowing movements and easy to learn. It helps improve vitality, immunity, strength, muscle tone, and co-ordination by bringing a sense of relaxation to the body and mind.
Classes are 1 hour. The first class FREE and then £8 per class or block book 5 sessions for £40 and get one free. Beginners welcome.
Call Sarah on: 07515 684306 or on www.shibashihighlands.scot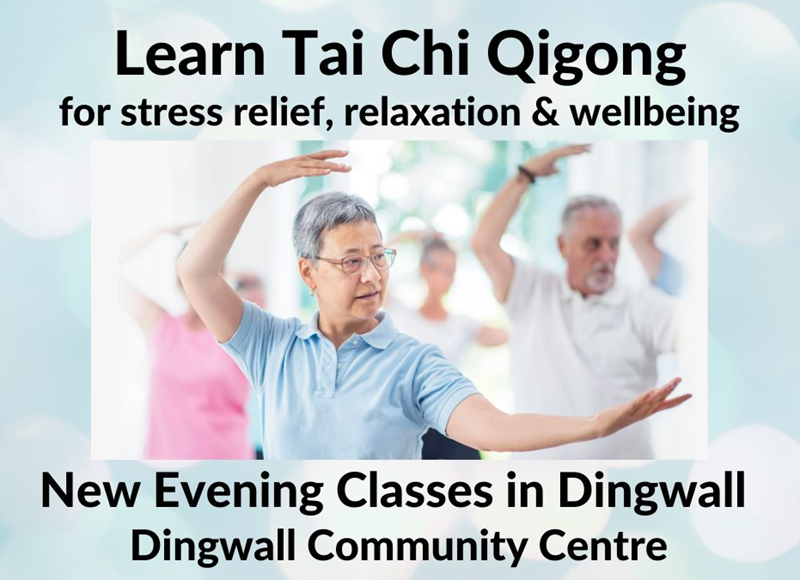 Thursday
Pilates with Karen Powell - currently on a break, returning in August.
1- 2 pm
These classes can help you explore mindful movement, experiencing greater freedom, ease pain and increase confidence, strength and control of your body.
Karen is trained in both STOTT PILATES and Balanced Body Pilates, and has taught these techniques for over 10 years in the Highlands.
Men, women, all ages and abilities can all benefit from Pilates.

Call Karen on 07795465540, or email karen.powell.pilates@gmail.com for more information, or to book.
Find out more on Facebook under KarenPowell'sHighlandPilatesandNordicWalking
Web page is www.karenpowellpilates.com
Street Struck with Suzanne Innes
3.30 - 5.45 pm
We provide street, hip hop and commercial dance classes for ages 2-21, teaching dance in a safe, fun environment.
Contact Suzanne on 07842 990392 streetstruckdance@gmail.com
Highland Hustle
7.30 - 8.30pm
Imagine a workout that takes inspiration from dance in Scotland, throw in some ceildh atmosphere, add a bit of toning and some fab music....... the result is Highland Hustle!
The workour is suitible for all levels and builds up slowly with options to work at your own pace. 2 left feet- doesn't matter!
Wear normal aerobic exercise gear, trainers & bring a water bottle and a towel or yoga mat (just to make you comfortable for the little floorwork there may be!)
Contact Michelle on shelldance@hotmail.co.uk
Friday
Yoga with Juliette Lowe - (Adult)
9.15 - 10.35 am
Juliette's Friday morning yoga class is lyengar yoga based, aiming to stretch the body and help with stamina and flexibility, as well as teaching basic yoga breathing techniques.
The class is mixed ability with age range 20 - 75.
Yoga is not competative, so students work to their own capacity, although this class would not be suitable for the disabled or for people with complex medical problems. Juliette does run a chair yoga class to cover these needs, so if you would like to know more check her website: www.juliettelowe.co.uk or email her on: juliette@dalreoich.co.uk
If you would like to come along, please wear loose clothing and bring a blanket. Please try and bring your own yoga mat.
The class lasts one and a half hours, including a relaxation.
Fitfellas and Wonderwomen with Liz Mclardy
11 - 11.45 am
If you're 60+, unfit, don't know how to change that, not even sure you want to, but know you should, etc. ----then this class is for you. FITFELLAS & WONDERWOMEN is a circuit-based class. Mainly for the over 60's –but no-one's to going to chuck you out if you're a bit younger. But you will get removed if you're too fit. It's not for folk who already use the gym regularly, or go running, or kite surfing etc. And absolutely no 6 packs allowed.
The classes are circuit based-which isn't as terrifying as it might sound, last about 45 mins,are not at all serious, and involve quite a lot of poor jokes.....
Contact lizmclardy1@gmail.com Mob 07746951151 or just turn up on the day.